Unleash Potential. Access the Advantage
Putting the power of WG to work
Featured Client Success Story
Workforce Group's outside-in perspective, industry expertise, and years of experience enable clients to stay on the cutting edge of talent acquisition and talent management in Africa.
See how we've helped bold clients achieve extraordinary outcomes
We partnered with Workforce Group to gain access to the brightest and best talents, and we have been much impressed by the quality of the candidates they sourced, assessed and recruited for us.
Workforce Group delivered an excellent Leadership/Management Retreat for our organisation tagged: "Execution: The Discipline of Getting Things Done". In addition to excellent facilitation skills, the evaluation of our company's performance was unprecedented for us but has given our senior management's team reasons to deeply reflect on our performance from inception to date and are presently evaluating ourselves to position OERL as a world-class company.
Your High-Performance induction Programme (HPIP) solution was turnkey; including the development of an application-focused competency-based induction curriculum with real-life business projects that afforded our new hires the opportunity to confront the realities of our business by proffering solutions to existing challenges in our market. The rigour of the programme delivered a crop of highly engaged, business-ready new-hires who hit the ground running, fully integrating into our business as they proceeded into their on-the-job rotations. The programme was an improvement on the current graduate trainee development program run by FBN Capital.
We partnered with Workforce Group to gain access to the brightest and best talents, and we have been much impressed by the quality of the candidates they sourced, assessed and recruited for us.
Workforce's Top Talent graduate trainee service exceeded my expectations with the quality of the graduates and the fantastic process deployed to get them.
Workforce Group transformed our sales team through their comprehensive curriculum and tailored solutions. Their commitment to excellence and industry-leading performance make them an unequivocal recommendation for organizations seeking unparalleled distinction.
Having had the opportunities to work with closely with Workforce Group in the delivery of the "Leading your Team for Maximum Productivity Programme". I can confidently attest to their exceptional qualities, expertise and professionalism. Workforce Group maintains a strong reputation for integrity, trustworthiness, and ethical business practices. Their transparent communication, ability to build and maintain strong relationship with stakeholders have earned them a solid reputation in the industry.
Our Industry-Leading Solutions
At our core, we're a Big 4 HR and business consulting firm with a single, central mission:
helping individuals and organisations across Africa adequately prepare to thrive in an evolving world of work. Backed by a suite of sophisticated services and solutions, our team of nationally-recognised experts brings in-depth insight, diverse experience, and genuine care to every client engagement to deliver the results you need to exceed your set business goals. If your business has an elephant's appetite but is eating like an ant, we can help.
At Workforce Group, every client is important, and each engagement is unique. Wherever you are on your HR & Business transformation journey, you have a partner dedicated to your continued success when you choose us.
We are passionate about helping businesses focus and do more with less. We specialise in matching people to opportunities across a wide range of HR, Marketing, Operations, IT, Finance, Sales and Engineering service-sector occupations to unlock their potential and deliver impact.
We enable clients to find, assess and select top talent by disrupting the traditional talent sourcing model with an assessment-focused, AI-powered, digitally-native team of subject matter recruiters.
We make strategic HR possible. We are experts in executive coaching, leadership and management development & digital learning transformation and have a decade of experience helping companies leverage the Train the Internal Trainer Model to drive the change of their L&D function.
We are the Tech agency for the HR industry. We create SaaS solutions that turn strategic HR initiatives in talent acquisition and talent management into sustainable business growth.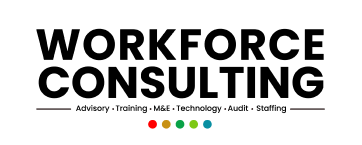 Helping organisations and public sector MDAs improve organisational performance and effectiveness. We combine unparalleled experience and capabilities across multiple industries and functions to deliver excellent results.
Leveraging our professional employer organisation (PEO) and employer of record (EoR) services, we help businesses hire, pay and manage remote and distributed teams across Africa.
Launchpad for multinational businesses — The Zone offers global teams and corporate clients a variety of event and workspace solutions tailored to maximise productivity.
Working with Us is Simple
Schedule Your Consultation
We will have a free consultation with you to understand what you are trying to achieve.
We will co-create a fit-for-purpose solution that meets your business needs.
We implement the solution specifically designed for you and watch your company grow.
Are Your Business Systems and HR Processes Designed for Optimum Performance?
Take the Organisational Effectiveness Assessment to identify any key issues and critical areas for improvement.