7 Reasons why your Company Should be Outsourcing
There is a constant improvement in the ways things are done in the work environment. Companies are looking for ways to cut and minimise cost and overhead especially due to the current state of the economy.
In a bid to achieve this, they are often compelled to consult subject matter experts in the areas where improvement is expected.
However, some companies are achieving more with less even with the seemingly bad state of the economy. This they have been able to achieve through Outsourcing.
According to Peter Drucker, "do what you do best and outsource the rest." The need for outsourcing cannot be over-emphasized.
Nigeria, for instance, is lagging behind in the global outsourcing industry, contributing only $2 billion out of the $500 billion the industry generates worldwide annually.
Investigation showed that globally, India is leading the pack followed by China, Malaysia, Thailand, and Brazil without the presence of any African country.
According to the president of the Association of Outsourcing Professionals of Nigeria, outsourcing holds the key to job creation. He noted that in 2020, outsourcing is expected to create a minimum of 38 million jobs globally.
The global market size of outsourced services was worth $82.9 billion in revenue in 2013. This shows that there is market growth for the outsourcing industry.
What is outsourcing?
Outsourcing is a process where a business contracts a portion of its business or functions to a third party. The third party is typically a specialist in a particular field and based locally or in the same country.
List of Outsourcing Terms You Need to Understand
Business Process Outsourcing (BPO): This is a process of Contracting a specific business Task e.g. payroll, to a third-party service provider.
People Outsourcing: Contracting a section of the workforce within an organisation. This involves the recruitment, training, and management of a professional team (e.g the sales team or customer service executive) to manage and deliver sustainable service to an organisation.
Task/Project Outsourcing: This is a process of contracting functions or tasks that are not the core functions to competent and world-class partners to enable them to focus on their core activities.
Service Level Agreement: This is a contract between a provider of the outsourcing service and a customer, that specifies measurable services the provider has agreed to.
Return on Investment: This is the amount of profit or cost saving is being achieved.
Reasons Why Companies Outsource and Why You Should Too
Cost-saving: Outsourcing non-core functions will help you pay more attention to those that matter the most, and bring in the most revenue.
Risk transfer: Once a task is outsourced, your organisation has one less thing to worry about as it has transferred the risk pertaining to that project or task to the outsourcing firm.
Access to expertise: Better results are obtained when experts in a particular field are allowed to take charge.
Saves valuable time: Valuable time is saved when organisations choose to outsource those areas where they lack competence.
Capacity management: Your organisation is able to utilize its core staff to the optimum instead of having them overwhelmed with the demands of several aspects of the business.
Access to Technology: Outsourcing can give your organisation access to technologies it would otherwise not have had access to. Some of these are field service management software solutions used in tracking and managing field teams and remote workers
Focus on core processes: Your organisation is able to focus on its strengths and core processes when you outsource tasks that are akin to weak points for you.
Recommended Post: Top 5 Ways to Cut Business Costs During a Crisis
Outsourcing Decision Matrix
The Outsourcing Decision Matrix helps you consider two important factors in outsourcing any task or project:
How strategically important is the task for your business? Strategically important tasks are sources of competitive advantage.
What is the task's impact on your organisation's operational performance? Tasks which have a high impact on operational performance are those which, if done well, contribute greatly to the smooth running of the organisation or, if done badly, greatly disrupt it.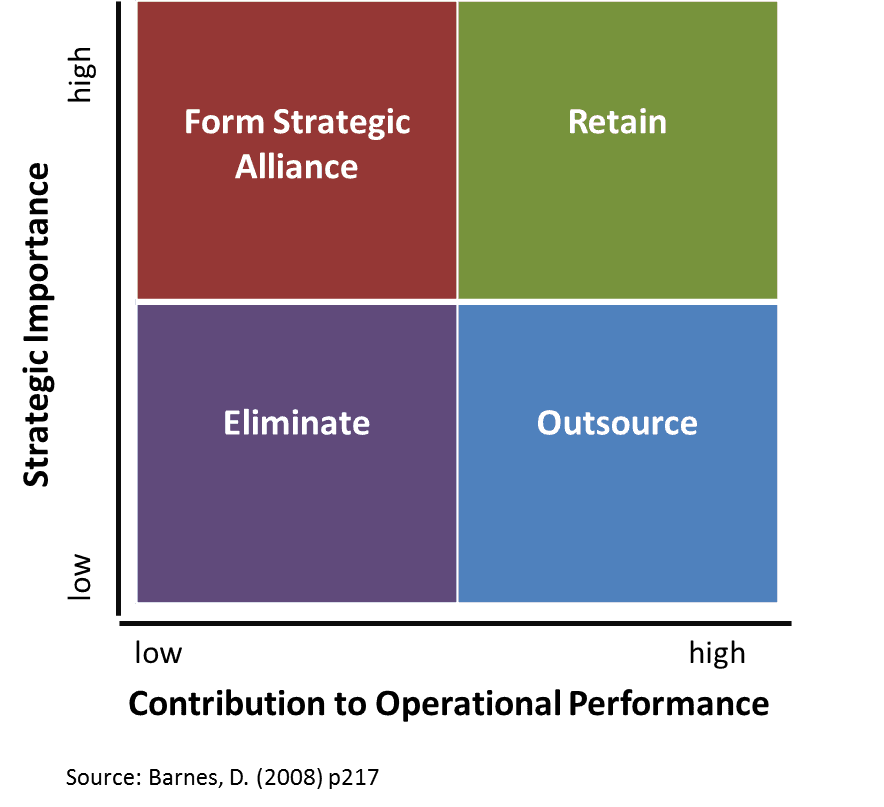 Form a strategic alliance – Tasks in this quadrant are high in strategic importance but contribute little to operational performance. So, although you need to retain control of them to ensure they are done exactly as you want, or you get the quality you want, they are relatively insignificant in terms of cost or smooth running and so not worthy of full in-house focus. This is why you should form a strategic alliance.
Retain – Tasks in this quadrant are high in strategic importance and have a big impact on operational performance. These tasks should be kept in-house so that your organisation keeps maximum control.
Outsource – Tasks in this quadrant are important for successful operational performance, but are not strategically important. These tasks could safely be outsourced. They're simply not worth spending in-house time managing. For example, a bank can decide to outsource security instead of spending time on that.
Eliminate – Tasks in this quadrant are not important to your organisation's overall strategy and nor do they make a significant contribution to its day-to-day operational performance. Although you might not be able to eliminate these tasks completely, it's important to check why you're doing them.
Companies such as Boeing, Apple, Xerox have successfully created and sustained value year after year by embracing outsourcing. It's important for companies to make a decision and improve their productivity and overall revenue.
At Workforce Group, we have helped businesses focus on their core competencies, giving them the opportunity to focus on tasks that matter the most to the achievement of their objectives through people, project, and process outsourcing services. Contact us at Workforce Group.
Related Posts: